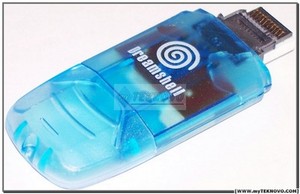 Just wanted to tell everyone what this SDISO madness is about. For you new Dreamcast users SDISO's is a file image which is simply used for a SD Adapter. Yes a SD Adapter it plugs into your Dreamcast's Serial Port and allows you to play homebrew games and the odd Commercial back up. I will state though it does play some commercial games for the most part it causes issues for the following reasons CDDA (CD Audio) and what this does is cause lag in the games cause the SD Card can only go so fast at loading your game and playing music so it will cause lag in the game. However most if not all homebrew games are compatible with the SD Adapter and there is a lot of great games in which or course you can find some on this blog site currently.
What you'll need in order to use your SD Card with the Dreamcast is of course the adapter, you'll also need the Dreamshell operating system and a SD ISO creator . You'll need to use the SD ISO creator to make ISO files the one that's available at the DCSwat website has a Data folder which is where you will put games primary files. Once you have done that Create Iso and your ISO will be created and you can put it on your SD Card. Dreamshell can be used with both CD-Rom and SD Card. Dreamshell is pretty simple to use first you'll have to download the software it'll come with a .cdi image which can be burned to cd-rom with IMGBurn or any other burning software that supports Disc Juggler Images.
Next there is a folder which will go on your SD Card. So what you'll need to do is put the SD Adapter in the Dreamcast along with the SD Card. Put the Dreamshell disk into the Dreamcast and power it on you'll be presented with a screen to what you want to boot with so obviously you're going to want to boot from SD Rom. You'll eventually get to the Dreamshell desktop if you want to boot your SD ISO games just click on File Manager or ISO Loader. I don't know what the difference between the two are but I found File Manager worked better so I would recommend using that to boot your ISOS.
You can buy a SD Adapter at this following link:
Tek Novo Ebay Store
You can find Dreamshell and the SD ISO Maker at:
http://www.dc-swat.ru/page/download/
IMGburn is used to burn the .cdi files and you can find it here:
http://www.imgburn.com/